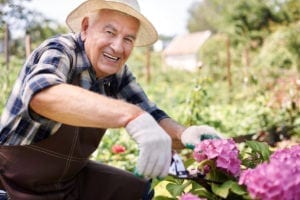 Are you a San Diego resident who is considering or researching the possibility of getting dental implants? If so, you may have already read that some patients don't have sufficient bone to properly support dental implants. In these circumstances, a bone graft procedure may be required before having their implants placed,in order to regenerate the lost bone tissue. Why is having adequate jawbone tissue important when it comes to placing dental implants? Continue reading to learn more.
All About Dental Implants
In case you're just beginning your research on dental implants, let's explain them to you a little bit, first. Dental implants are tooth replacement solutions that can look and feel just like your natural teeth.The implant itself is composed of titanium, the most bio-compatible material available, and replaces the tooth of the missing tooth. The implant is then connected to a realistic looking and feeling tooth crown. The implant not only acts as a way to secure the artificial tooth to the mouth, but it also stimulates jawbone growth, just like a natural tooth root does. This is important because the absence of a tooth root, either natural or prosthetic, can lead to jawbone tissue reduction.
Why Is It Important that San Diego Residents Have Adequate Jawbone Tissue to Get Dental Implants?
Because dental implants require a strong foundation of plenty of healthy jawbone to attach in order to support the powerful forces generated while chewing. This is especially true for those patients who have been missing a natural tooth or teeth for a long time, as they have also been missing the stimulation from the tooth root needed to prevent bone degeneration and may already be suffering from shrinking jawbone tissue, medically known as "bone atrophy" or "resorption."
If you don't have enough bone for a dental implant, you may experience any number of complications* from dental implants, including but not limited to the following:
Gingivitis around the implant, called mucositis, that may lead to early bone loss
Rapid bone loss around the implant requiring implant removal
Damage to the neighboring teeth as a result of rapid bone loss and implant failure
How Do I Know if I Have Enough Jawbone Tissue?
It's impossible for a San Diego patient to detect whether or not he or she will require bone regeneration to rebuilt the lost jawbone tissue prior to have dental implants placed. In order to diagnose the state of your jawbone tissue, you will need a comprehensive examination from a dental professional such as Dr. Beck. With the help of 3-dimensional cone beam CT imaging taken in her office, she will be able to determine if you have sufficient jawbone tissue to have the implants immediately placed, or if you need to wait for a jawbone graft, first.
Contact Dr. Beck's Office for More Information
Regardless of the reason why you may be missing a tooth, rest assured that dental implants are highly predictable and safe tooth replacement options. Because dental implants are also meant to be permanent and there can be drastic consequences if they are planned poorly, it is critical that only a knowledgeable and highly trained specialist like Dr. Beck is trusted with your care. Consult with Dr. Beck at her San Diego practice to make sure dental implants are right for you, and if any additional procedures like bone grafting or regeneration are needed to ensure long term success with your new implant.
To schedule an appointment with Dr. Beck, call her San Diego offices today at (858) 635-6700.
* Individual results may vary.