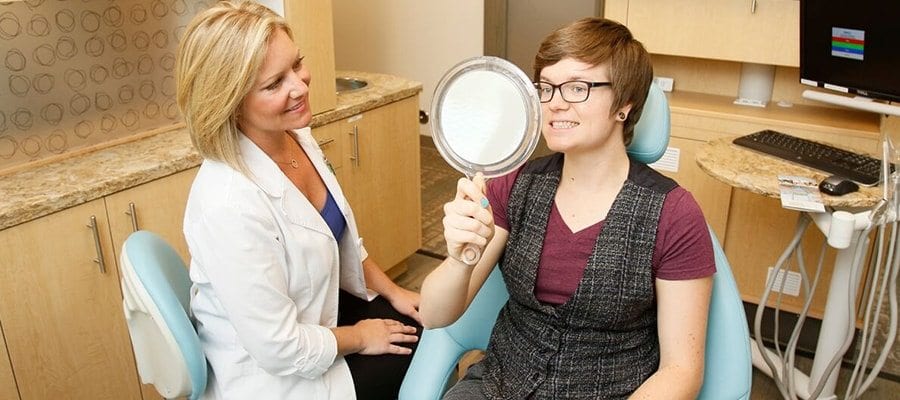 One of the best things that you can do for your entire oral health is to visit your dentist's office at least twice a year for a teeth cleaning. San Diego patients that get their teeth professionally cleaned regularly will experience some terrific benefits. Not only can regular teeth cleaning reduce the risk of cavities and gum disease, but it can also keep your teeth strong and can even prevent oral cancer through early detection. If you haven't had your teeth cleaned in a while, call Dr. Beck today at (858) 635-6700. We would love to get you into our friendly, state-of-the-art office for a thorough cleaning so that your mouth, and YOU stay as healthy as possible.
Why Work with Dr. Beck
One of the things that our patients say about our team is how gentle we are with all of our patients. Wether you're coming in gum surgery, dental implants, or just a basic teeth cleaning, San Diego patients can expect to be treated with compassion at all times.
But on top of that, Dr. Beck is also one of the most respected and knowledgeable periodontists in the country. She has been recognized both locally and nationally for her dedication to the science and art of dentistry and for knowledge and passion for her patients oral health, and overall well being! She's also a San Diego native, having attended UCSD and UCLA for her extensive dental education, and she is dedicated to serving her beloved Southern California community to provide the best oral healthcare possible! If you're hoping to work with one of the most care and respected periodontists on the West Coast, then make sure you call Dr. Beck today at (858) 635-6700. You can also check out our Smile Gallery to see Dr. Beck's impeccable work for yourself.
What Happens During a Teeth Cleaning?
Did you hear that Forbes recently ranked San Diego as our nation's 13th healthiest city?! We understand your commitment to health and want to help your achieve your goals by being your partners in health.  It's our number one priority! We want to help you enjoy the beautiful outdoors and with your friends and family and enjoy all the amazing thing that a life in Southern California has to offer! That's why we care so much about your oral health. We want to help you stay healthy and active by being your partners in health as your oral health specialists.  Having a a healthy smile can not only boost your self-esteem, but it can also go a long way with your career and social life, giving you the confidence to smile and laugh, truly enjoying all the joy and happiness a life in San Diego has to offer. 
What actually happens during a teeth cleaning?
Medical history review- The first step in a routine tooth cleaning or periodontal maintenance appointment is to review your medical history for any changes.

 

We have found that a lot can happen in just a few months so it is important for us to confirm any medications your may be taking, recent doctor visits or recent health concerns. Your health is our number one priority, so don't be surprised if we ask about your overall health before looking at your teeth and gums!
An exam – After reviewing your medical history, Dr. Beck or one of our highly trained dental hygienists to perform an examination of your mouth. We'll be looking for gum inflammation, recession, oral cancer screening, evaluate your bite, check for any decay (cavities) on the teeth, cracks, or any other oral health concern.

 

We will also evaluate your gums using an instrument called a probe, which is like a small ruler we use to evaluate your gum health.
Plaque and tartar – Plaque is the white or yellowish film that you've probably seen collecting on your teeth, especially in between them if you're not a fan of flossing every day. If this plaque is allowed to remain on the teeth, it turns into a rock-hard substance called tartar that can only be removed by a dentist using our specialized instruments and equipment.

 

Don't worry, our gentle technique will painless remove all your build up and leave your teeth and gums feeling healthier than ever!

Polishing – After the tartar is removed, the dental hygienist uses a gritty toothpaste on an electric brush to polish the teeth and remove any staining.

Home care recommendations-after thoroughly rinsing the polishing paste off your teeth, our highly trained hygienist will review any modifications or additions for your daily home hygiene routine, to help you ensure you're armed with the best techniques available to maintain the most optimal level of oral health possible.
How to Get Started with Dr. Beck
Whether you need extensive dental work or you're looking for a new dentist for teeth cleaning, San Diego patients should make sure to call our office. When you call, you'll always be greeted by our friendly and expertly-trained staff. Your call is important to us, and we look forward to talking you! If you have questions or concerns, we are happy to discuss them with you.
From there, the next step is to set up a time for you to come into our offices to meet with Dr. Beck. During this meeting, Dr. Beck will talk with you about your medical history , any symptoms that you're experiencing, and address any oral health concerns you may have. She will then perform an examination to get a better idea of what may be affecting the health of your teeth and gums. She may also order some x-rays to get more information on what's happening internally. After that, we'll make an appointment for you to come back and get a more extensive work done or, for dental emergencies, Dr. Beck may perform the procedure right then and there.  As you may have gathered, your health is our priority, and we are committed to helping you achieve healthy teeth and gums for a lifetime, for a healthier you!
To schedule your teeth cleaning consultation with Dr. Beck, call our San Diego office at (858) 635-6700.