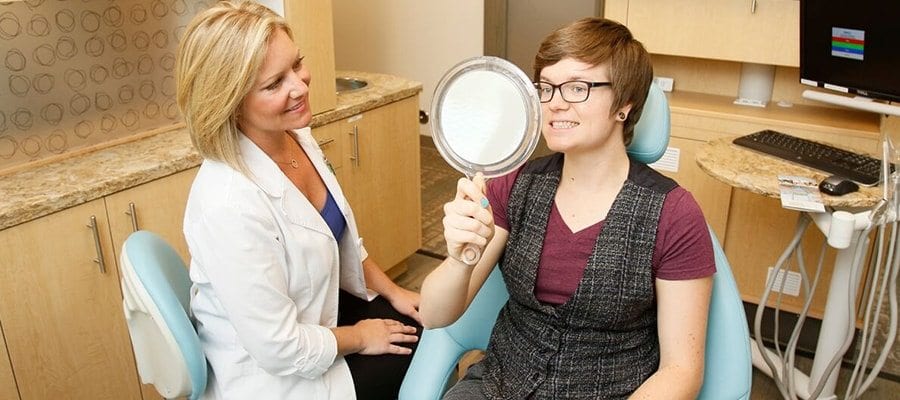 Jump to A Topic
Why Are Dental Cleanings Important?
Everybody wants a bright, white smile that they feel confident flashing on all occasions – whether at home with friends and family, or professionally at work. Unfortunately, having perfect pearly whites isn't something you can attain without proper maintenance. In addition to performing correct oral hygiene at home, which includes thoroughly brushing your teeth twice daily and flossing at least once a day, you also need to have regular teeth cleanings to get rid of the plaque and tartar that you can't remove on your own.
Most people are safe having a professional dental cleaning just twice a year, but some are recommended to get cleaned every 2 or 3 months for optimal oral health.  San Diego patients who have a history of periodontal bone loss, take certain medications, or have a medical condition that makes them more prone to gum disease, are recommended to have more frequent cleanings and evaluations to prevent inflammation and bone loss.  Not only can regular teeth cleaning reduce the risk of gum disease, it also allows early detection of problems before they become severe; such problems include gum recession, cavities, or even oral cancer.
What Happens During a Teeth Cleaning?
Did you hear that Forbes recently ranked San Diego as our nation's 13th healthiest city?! We understand your commitment to health and want to help you achieve your goals by being your partners in health. It's our number one priority! We want to help you enjoy the beautiful outdoors and with your friends and family and enjoy all the amazing things that life in Southern California has to offer! That's why we care so much about your oral health. We want to help you stay healthy and active by being your partners in health as your oral health specialists. Having a healthy smile can not only boost your self-esteem, but it also goes a long way to helping you be healthier overall, reducing your risk for life-altering medical conditions like heart attack, stroke, diabetes, and even some cancers.
During your regular teeth cleaning, we will perform the following:
Medical history review
The first step in a routine tooth cleaning or periodontal maintenance appointment is to review your medical history for any changes. We have found that a lot can happen in just a few months, so it is important for us to confirm any medications you may be taking, recent doctor visits or recent health concerns. Your health is our number one priority, so don't be surprised if we ask about your overall health before ever even looking at your teeth and gums!
The Examination
After reviewing your medical history, Dr. Beck or one of our highly trained dental hygienists will perform an examination of your mouth. We'll be looking for inflammation (identified by bleeding), gum recession, performing an oral cancer screening, evaluating your bite, checking for any decay (cavities) or cracks on the teeth, or any other changes in your oral health.
Plaque and Tartar Removal
Plaque is the white or yellowish film that you've probably seen collecting on your teeth, especially in between them if you're not diligent at thoroughly flossing every day. If this plaque is allowed to remain on the teeth, it turns into a rock-hard substance commonly referred to as tartar.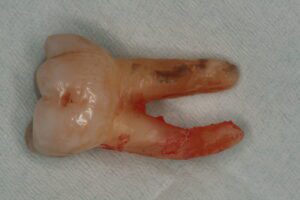 This is what dental tartar looks like on a tooth root.
Tartar can only be removed by a dental professional using specialized instruments and equipment. Don't worry! Our gentle technique will painlessly remove all your build up and leave your teeth and gums feeling healthier than ever!
Polishing
After the tartar is removed, the dental hygienist uses a slightly abrasive toothpaste on an electric brush to polish the teeth and remove any staining.
Home Care Recommendations
After thoroughly rinsing the polishing paste off your teeth, our highly trained hygienists will review any modifications or additions for your daily home hygiene routine to help you ensure you're armed with advanced techniques available to maintain the most optimal level of oral health possible.