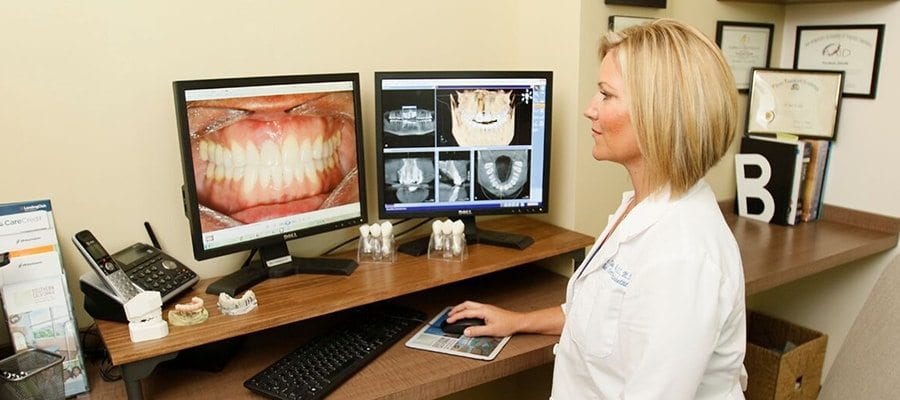 Have you been told that you have periodontal disease ("gum disease"), or that you urgently need to see a periodontist for a deep cleaning and/or other treatment? Are you not even sure what gum disease is in the first place, and have come here to research the condition? Well, you're in luck. Here you will find lots of information about gum disease, including how it's treated, and why San Diego's Dr. Tina Beck is an experienced periodontist skilled in preventing, diagnosing, and treating gum disease. As a chronic condition that must be managed throughout one's life, Dr. Beck feels strongly about the importance of being educated about gum disease, including its causes and prevention.
Gum Disease Treatment Options
San Diego patients that are suffering from gum disease have a few different treatment options.
Deep cleaning
If you're lucky and you're able to catch gum disease early, the treatment that is typically recommended by Dr. Beck is a very deep and thorough cleaning of the teeth, gums, and the gum pockets. All of the plaque and calculus (hardened plaque deposits, commonly referred to as tartar) is mechanically removed from the teeth and the roots, after thorough numbing of the area to ensure maximum comfort. The technical term for this procedure is Scaling and Root Planing. Once all the plaque and calculus is removed from under the gums, the inflammation resolves, allowing the pocket to heal and gum tissue to reattach to the teeth.
Periodontal "gum" Surgery
If the inflammation has spread too far and the bacteria have made their way too deep under the gum, or found a small hiding space in the root itself, it may be inaccessible to clean off with just a deep cleaning. In this case, minor gum surgery may be needed to complete the cleaning process.  During this process, the gum tissue is gently pulled away from the tooth root, allowing visualization of the problematic bacteria, and access for its removal. San Diego patients with gum disease sometimes also develop severe gum recession as a result of the bone loss, so early intervention is highly recommended!  If there is advanced bone loss, Bone grafting & regeneration using stem cell technology, may be an option in some cases as a part of gum disease treatment
Periodontal Maintenance
To ensure long term health after the gum disease treatment, it's critical to make sure it doesn't come back!. Even after extensive treatment, gum disease patients are always at risk of the inflammation coming back if plaque is allowed to develop again. That's why patients with gum disease will need regular periodontal maintenance to prevent recurrence.
Video: Watch our 3D animation video for a detailed explanation on the differences between prophy and periodontal maintenance.
How Gum Disease Starts
Do you ever wonder what happens to that sticky, slimy film on your teeth when you don't brush them before bed? That layer is called plaque, and it is made up of a mixture of dead skin cells from your gums (like dry skin), food particles, and microbes that live in your mouth (including bacteria, viruses, and even fungus). Yuck! When plaque gets left on your teeth, it starts to collect, especially in-between your teeth and other hard to clean areas, like underneath your gums or around old crowns and fillings.
If plaque isn't removed promptly, it begins to irritate your gums and cause inflammation. Inflamed gums usually don't hurt, but may bleed more easily, swell, and darken in color.  The longer your gums are exposed to this plaque, the more inflammation develops, especially if you have one of the risk factors below.  This inflammation soon causes the gum tissue to pull away from the tooth root, forming a 'pocket' between the gum and tooth where the plaque continues to grow, getting closer and closer to the bone beneath. Once the plaque finds its way under the gums, it may be difficult or impossible to reach with just a normal dental cleaning.  It also begins to harden on the tooth root, like barnacles on a boat, and must be physically scraped off the tooth (this is why just using antibiotics is not enough to get rid of it!)
As this process continues, your immune system begins to produce stronger and more powerful chemicals in an attempt to rid your body of this dangerous plaque. Once the inflammation begins to spread to the bone under the gums, it is called periodontitis, (commonly referred to as gum disease), and if left untreated can result in the loosening and loss of the tooth, often without ever causing any pain!  After all, your body would rather rid your body of the affected tooth then allow the bacteria to destroy the jaw bone and enter the bloodstream.
Even with good dental hygiene at home, if you have one of several contributing risk factors for gum disease, you may be at an increased risk for inflammation and bone loss. This means that pocketing and bone loss can occur much faster than for other people. In fact, it is estimated that over 70% of the adult population in the U.S. has some form of gum disease.  Risk factors that can significantly affect the severity of inflammation, pocketing, and bone loss include the following: