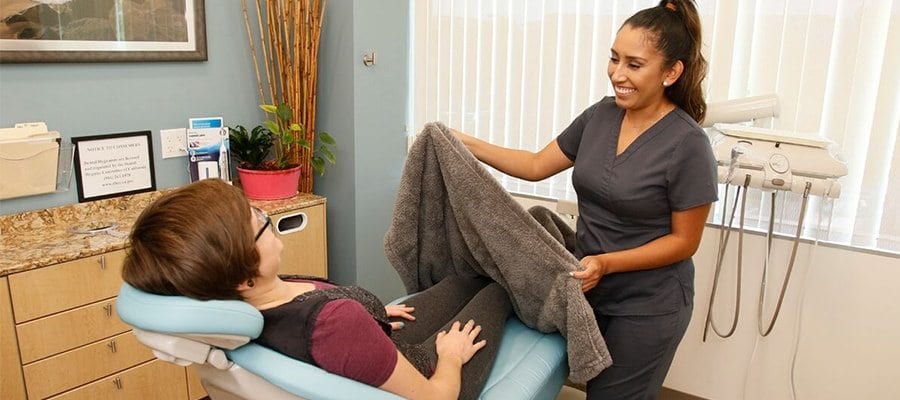 Here at Southern California Periodontics & Implantology, we understand that people of all ages can experience anxiety related to dental treatment; so we strive to make your visits with us as pleasant as they are effective. In addition to our relaxing sedation options, we have equipped our treatment rooms with warm blankets, headphones and even movie glasses, to keep you comfortable and relaxed throughout your visit.
Can't imagine feeling relaxed while receiving periodontal treatment? Has fear kept you from receiving the care you need? Now it's possible to relax while receiving care with conscious sedation.
Conscious sedation provides a deep state of relaxation without requiring you to be completely asleep.
You will feel significantly calm and relaxed; but you will still be aware of your surroundings and be able to communicate with our team.
With conscious sedation, most patients report having little or no memory of treatment; and we can complete almost any procedure you need with conscious sedation.
Your physical well-being and safety are important to us. While you are under sedation, we closely monitor your vital signs and take every warranted precaution.
Recovery usually takes only about 5-10 minutes; but you will still feel very drowsy. For this reason, we ask that you arrange for someone to drive you to and from your appointment.
Sedation isn't just for people with severe anxiety. It can also make periodontal visits easier for people who have TMJ or neuromuscular disorders.
Sedation is also ideal for those undergoing multiple or complex procedures, or those who have trouble getting numb.
Should you require a stronger form of sedation or have medical complications that require an alternative method of relaxation, deep sedation (similar to general anesthesia) is available and provided by a board certified anesthesiologist for your safety.
At Southern California Periodontics & Implantology, your safety is always our top concern. We'll take the time to prepare you for your sedation appointment, and to answer any questions you may have in advance. Your prescriptions will be called in several days prior to your appointment so that you can be escorted to the comfort of your home immediately after your procedure, instead of waiting at a pharmacy for your medications. While you are under sedation, we will carefully monitor your blood pressure, breathing and heart rate. So relax! You're in good hands!
Contact Southern California Periodontics & Implantology in San Diego to learn more about sedation. Call (858) 924-0191.