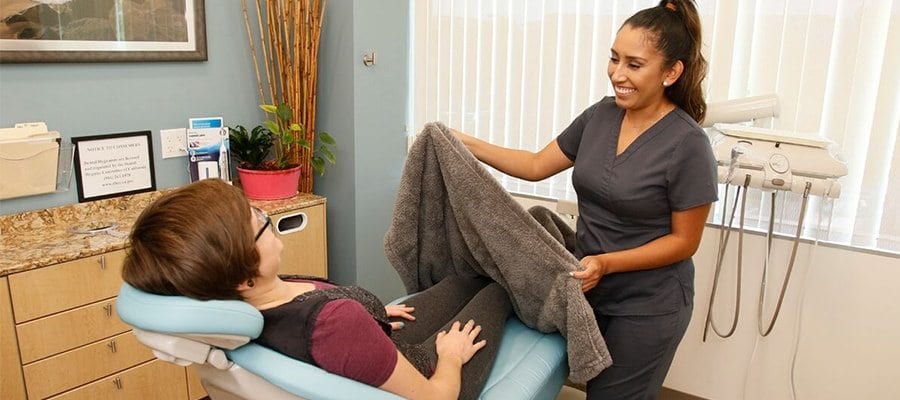 Dr. Beck and her team understand that for many of her San Diego and Poway patients, any type of dental procedure can unearth significant fear and anxiety, particularly if it involves surgery. Wether it's due to a general fear of the dentist, or a a bad dental experience in the past, Dr. Beck has an option to help alleviate your fear and help make your procedure be completed painlessly!
Even though many patients don't feel the need for sedation as long as the area is thoroughly numbed, Dr. Beck understands that even the idea of oral surgery can cause significant fear and anxiety for some, which is why she offers the following sedations options to ensure optimal comfort for all her patients. Nitrous Oxide ("laughing gas"): Nitrous oxide is a safe and effect medication that is inhaled through the nose and provides mild anxiety relief.  Patients are fully conscious and aware of their surroundings, and capable or driving themselves home from their procedure afterwards. It is not intended to put you to "sleep".
Anxiolysis (light sedation)
Anxiolysis literally means the elimination of anxiety.  For patients who are only a little nervous about their planned procedure, knowing that they will be completely numb throughout and not feel any pain during surgery, they prefer just a little 'something'. For these patients, a prescription for an anti-anxiety medication similar to xanax or valium is prescribed to be taken one hour before the appointment.  It is important to note that this option is often not powerful enough to combat moderate to severe anxiety and should only be considered by those who think they might be comfortable without any pre-medication, but prefer something to 'take the edge off'.  Some San Diego patients may become comfortable and relaxed enough to drift to sleep, but are easily aroused by a gentle touch or asking them a question. As with most sedation options, patients cannot be allowed to drive themselves home after the procedure if anxiolysis if received.