Thursday June 18th, 2020
Greetings!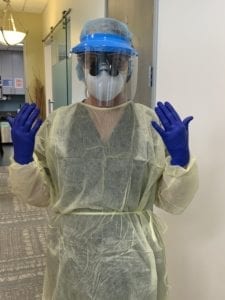 In case you haven't heard, we are open again! We've been open for 5 weeks now and worked out most of the kinks in implementing our new protocols. We have worked hard over the last few weeks to stay current with all the federal, state, and local mandates, as well as guidelines from the CDC, OSHA, and the California Dept. of Public Health. As always, your safety is our top priority and we are going above and beyond our usual disinfection and sterilization procedures.
We have been working hard to reschedule all our patients' delayed appointments. We have a lot of patients to accommodate and are limiting the number of available appointments each day, as well as more time between appointments to allow for detailed disinfection procedures. In order to compensate for our patients' needs, we added an additional day of hygiene so that now we can offer cleaning appointments on Tuesdays, Wednesdays, and Thursdays!
My team and I take pride in providing quality oral healthcare and that includes an emphasis on safety. We are taking great care to screen every patient and all team members daily, prior to entering our office. We require face coverings at all times while inside our office, until you are seated in the treatment room. We are well-supplied with proper personal protection equipment (PPE), and are avoiding the generation of aerosols whenever possible. There are too many changes to list, but you are welcome to visit our website to read in more detail more of the precautions we are taking for your safety.
We are here for you if you have any questions about your treatment, and certainly let us know if you are experiencing any pain so we can prioritize your care.
We look forward to seeing you soon! Be well!
Sincerely,
Dr. Tina Beck
Please click here to read more about the protocols we have implemented to keep our patients safe. 
To read Dr. Beck's previous COVID-19 message, please click here.
---
Dr. Tina Beck announcing re-opening of office
---