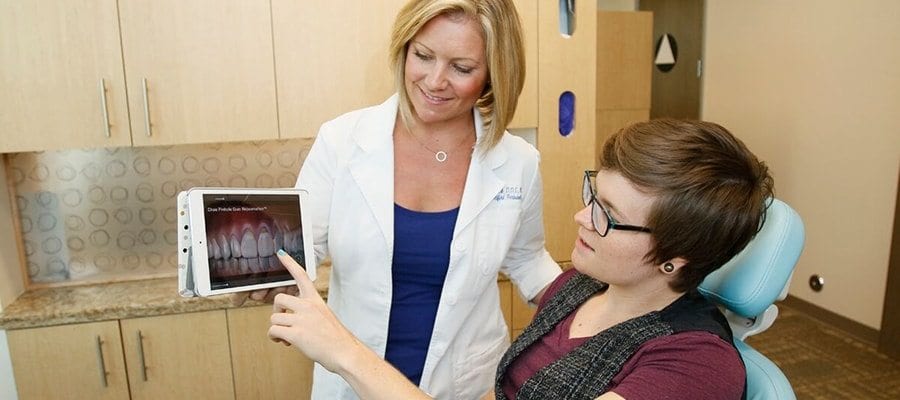 As a board certified periodontist, gums are the primary area of specialty for Dr. Beck. While your teeth are protected by enamel–the hardest substance in your body–your gums are at the mercy of your oral health. If bacteria, food, and plaque remain on your teeth, your gums will be the first to start to suffer from things like gingivitis, inflammation, gum disease, or gum recession. San Diego patients that are suffering from gum recession may experience a change in the appearance of your smile like long teeth, pain, sensitivity to heat and cold, and greater risk of cavities. If you're worried about receding gums, make sure that you call Dr. Beck today at (858) 635-6700.
How to Get Started with Dr. Beck
When you call our office, you'll always hear a friendly voice on the other end of the line from one of our well-trained staff. We're more than happy to talk with you about your questions and your concerns about gum recession. San Diego patients that want to move to the next step in the process will need to schedule a time to come into our cozy office for a visit with Dr. Beck.
Our San Diego patients absolutely love how gentle and compassionate Dr. Beck is with every procedure. Dr. Beck will talk with you about your medical history, your symptoms, and then she'll perform a thorough examination to get a better idea of what's going on. You'll be instantly reassured you made the right choice in trusting Dr. Beck and her team with your oral health concerns!  Dr. Beck may also order some x-rays that we can perform right in our office, like a 3 dimensional CT scan. Once Dr. Beck has all the information she needs, Dr. Beck will begin to develop your custom treatment plan. After answering all your questions, we'll schedule another time for you to come back for your recommended treatment. Contact us today to get started!