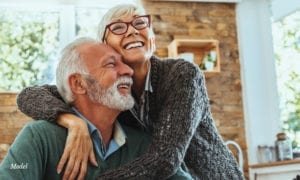 Men and women in San Diego choose to have dental implants placed as a solution for single or multiple missing teeth, or to stabilize dentures. When you choose Dr. Beck at Southern California Periodontics & Implantology you're choosing a specialist in dental implant technology. Dr. Beck is a board-certified periodontist and dental implant surgeon, and has performed hundreds of oral surgical procedures.
We know that the idea of dental surgery can be scary, that's why Dr. Beck wants you to be well-prepared for what you should expect during your implant recovery process. Your comfort is her number one priority, and Dr. Beck and her team will do everything possible to ensure a comfortable and worry-free experience, but you'll need to do your part too. After all, dental implant placement is a surgical procedure, and you will need to follow all her instructions, including allowing adequate time to recover.
What to Expect the Day of Your Dental Implants Procedure
Most San Diego patients choose to have some form sedation for their implants surgery. During your consultation, Dr. Beck and her team will discuss all your sedation options.  Once your procedure is complete, you will be released to a trusted friend or family member to return home to rest and recover.  A few days prior to your procedure, Dr. Beck and her team will review all your instructions leading up to surgery day, and for the days after to ensure a smooth recovery. You may be tired from the sedation or anesthesia you received, and your mouth may feel a bit tender, so make sure you allow time to rest. Dental implants patients should also avoid touching the incision sites in the days following the procedure or try not to disturb them as much as possible.
Symptoms Dental Implants Patients Could Experience After Having Surgery
While the placement of dental implants is usually pain-free, patients may experience some discomfort after surgery. San Diego patients should be aware of the following common occurrences after dental implant procedures:
As the effects of anesthesia wear off, some patients experience mild discomfort that is usually managed with just ibuprofen and/or tylenol.  For more complex procedures like those requiring bone grafting, Dr. Beck may prescribe stronger medications to help keep you comfortable in the days following your surgery.
Most dental implants patients experience some mild swelling after having an implant placed. Typically, the swelling is very minor and resolves within just a few days. Dr. Beck recommends her patients ice the sides of their face near the surgical area as much as possible for the first couple days after surgery to minimize any swelling.
Restrictions to Follow After Having During Dental Implants Placed
One of the most important things you should remember during your recovery from dental implants surgery is to adhere to the following restrictions:
Eat softer foods and try to chew on the opposite site from the surgical area
Limit physical activity
Take all prescriptions as instructed
Pay close attention to your post-surgery instructions and call if you have any questions 
Sticking to Dr. Beck's aftercare instructions will ensure your recovery process is smooth and goes quickly!
Call San Diego Periodontics & Implantology Today if You Have Any Other Questions About the Dental Implant Recovery Process
At Southern California Periodontics & Implantology, Dr. Beck and her team provide every patient with compassionate, specialty care. Dr. Beck specializes in the placement of dental implants and seeks to help her San Diego patients achieve the best oral health possible.
If you have questions or concerns about your recovery process after dental implant placement, call her office today at (858) 635-6700.