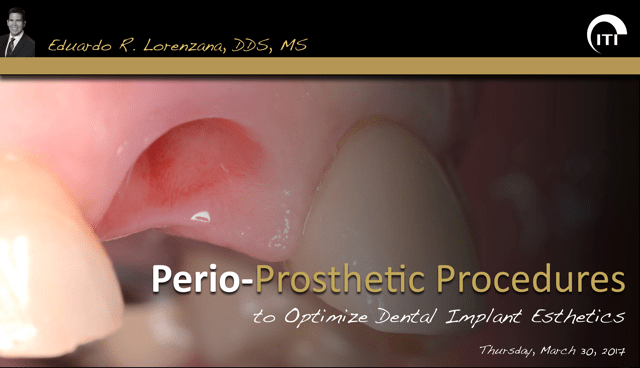 Date: March 30, 2017
Location: Hyatt House San Diego/Sorrento Mesa
10044 Pacific Mesa Blvd. San Diego, California, USA, 92121
Registration Time: 6:00 – 6:30 PM
Presentation: 6:30 – 8:30 PM
Fee: $45
Synopsis
Successful surgical and restorative practices in general are well-versed in each other's disciplines in order to facilitate communication and deliver high-quality restorative treatment. As expectations of implant-based reconstructions reflect our own desires for the illusion of what is natural, additional demands are placed on the restorative and surgical team's diagnostic and clinical talents. In the esthetic zone, the periodontal and peri-implant tissues are an intimate component of any implant-based reconstruction, since overall gingival display, soft tissue position and volume, and papilla quantity and quality can impact the implant fixture position as well as the overall esthetic outcome. Periodontal plastic surgery has developed as a discipline within Periodontics to offer the surgical and restorative team a number of techniques to create and enhance implant soft tissue outcomes. However, these techniques exist in a vacuum of their own; implant dentistry requires an overlapping familiarity with surgical, restorative, and laboratory concepts perhaps more accurately described as perio-prosthetic plastic surgery. This course will illustrate the "perio-prosthetic concept" from risk assessment, clinical applications, & management of complications.
Course Objectives
Upon completion of this program the participant will be able to:
Incorporate esthetic risk assessment concepts into daily practice.
Understand how soft tissue phenotype impacts implant treatment planning in the esthetic zone, including when to employ Type 1 (immediate) placement.
Confidently apply perio-prosthetic techniques to enhance implant esthetics.
Understand the importance of emergence profile and peri-implant soft-tissue sculpting to the overall esthetic outcome.
Identify situations that can compromise esthetic outcomes and implant survival.
About the Speaker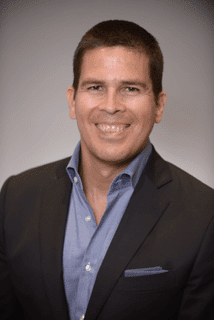 Eduardo R. Lorenzana, DDS, MS
, established his private practice in San Antonio, Texas, focused on Periodontics, Oral Plastic Surgery, and Dental Implant Aesthetics. Dr. Lorenzana earned his certificate in Periodontics and Masters in Oral Biology from Texas A&M – Baylor College of Dentistry in Dallas, Texas, and is a Diplomate of the American Board of Periodontology. He is an Adjunct Assistant Professor in the Graduate Periodontics Department at Texas A&M – Baylor College of Dentistry and Faculty in the Implant Preceptorship in Dental Implantology continuum at The University of Texas Health Science Center in San Antonio. Dr. Lorenzana shares his work and clinical perspectives through national and international lecturing, clinical research, and publications. He is an active member of numerous professional organizations, including the American Academy of Periodontology (AAP) and the Academy of Osseointegration (AO). He is President of the Southwest Society of Periodontists (2016-2017) and Past-President of the Texas Society of Periodontists. Dr. Lorenzana is also a Fellow in the International Team for Implantology (ITI), currently serving as Communications Officer for the US Section.