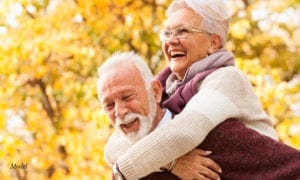 Many men and women in San Diego visit Dr. Beck every year to have dental implants placed. As the most sought after tooth replacement option, dental implants can replace just one or two teeth, or all of your teeth, if needed! During your consultation, Dr. Beck evaluates the specific needs of each individual patient and determines how many implants can be placed at the same time, as well as how they are placed and what system is best, depending on your unique situation.
Traditional Dental Implants
Placing dental implants is a very complex, individualized treatment process and must be designed with the patient in mind. Because Dr. Beck has many years of experience placing dental implants in San Diego, she can recommend the recommended course of action for each of her patients based on their unique needs.
For patients who need just one or two missing teeth replaced, Dr. Beck will recommend traditional "endosteal" dental implants. This dental implant is a small post that can be placed in the upper or lower jaw and acts as a replacement for the root portion of a missing tooth. Over time, the dental implant will fuse with the jawbone to become a solid anchor for the replacement tooth that goes on top of it. When San Diego patients need more extensive treatment, Dr. Beck can place multiple implants to replace an entire arch of teeth.
All-on-4 ("Teeth-In-A-Day") Dental Implants
Dr. Beck uses this dental implant solution for San Diego men and women who need to have an entire arch or mouthful of teeth replaced. She can perform this technique for patients with a strong, healthy jawbone, in the absence of severe periodontal disease or infection. This advanced implant option allows Dr. Beck to only utilize healthy jawbone by placing between 4-8 dental implants per arch. These few implants support an entire arch of teeth and patients can enjoy restored oral function and aesthetics in a single surgical procedure.
Are You a Suitable Candidate to Receive Dental Implants?
Most men and women in need of dental implants are excellent candidates. When you meet with Dr. Beck for your first consultation, she will review any medications you may be taking as well as your overall health in order to identify and manage any potential complications. She will also fully examine your mouth and evaluate the health of your jawbone and any neighboring teeth to ensure your dental implants will remain healthy for many years to come.
Choose Southern California Periodontics & Implantology for Your Dental Implants
Whether you need just one dental implant or a whole mouthful, Dr. Beck believes in fully educating each of her patients. When you visit her for your initial consultation, she will spend extensive time explaining your procedure to ensure you understand your options before you make a decision.
If you're ready to confidently chew and smile again with the help of dental implants, call Dr. Beck's San Diego office today at (858) 635-6700 and speak with a member of her friendly team to schedule a consultation!