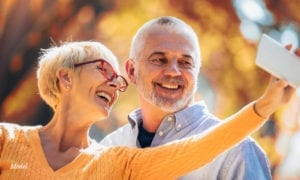 When you visit with Dr. Beck in her San Diego office to discuss dental implants, one of the things she will determine is whether or not you are a good candidate for this tooth replacement option. The good news is that usually, most people are able to receive dental implants; however, the course of treatment looks different from person to person. In order to know for sure whether or not you're a good candidate for dental implants, you should make an appointment with Dr. Beck so she can perform a full evaluation and provide her professional opinion.
Who is a Good Candidate for Dental Implants?
During your one-on-one appointment with Dr. Beck, she will review any medications you may be taking, as well as your overall oral and medical health in order to identify and manage any potential complications. Additionally, she will use her state-of-the-art 3D CT to evaluate the health of your jawbone and neighboring teeth to ensure your dental implants will be secure and successful for many years to come.
While most patients are candidates for dental implants, there are some key things Dr. Beck will  consider during your consultation.  Thinking through these things prior to your appointment will help you get the most out of your consultation.  Some of the questions Dr. Beck will be considering include the following:
What is your oral and medical health history?
This may seem silly, but when you visit Dr. Beck for your initial consultation, you'll need to be prepared to provide her with a detailed account of your oral and medical health history, including all medications and supplements you take (both prescribed and over-the-counter).  We recommend San Diego patients write this information down ahead of time to ensure nothing is missed during your meeting with Dr. Beck. No detail is too small, so include everything that comes to mind.
Have you had any loose or missing teeth for an extended period of time?
During your initial consultation with Dr. Beck, she will evaluate the health of your jawbone tissue. It is critically important that your jawbone be strong and healthy before dental implants can be placed. If you have had loose or missing teeth for an extended period of time, you will likely need a bone graft procedure to regenerate lost or damaged bone before Dr. Beck can place dental implants.  Sometimes this can be done at the same time as the dental implant placement, but 3D CT imaging is needed to determine exactly what is needed to ensure long-term implant health.
Do you have active gum disease?
San Diego residents who have red, swollen, or tender gums that bleed easily may have gum disease – also known as periodontal disease. Before dental implants can be placed, Dr. Beck will need to treat your periodontal disease and restore your gum health. Healthy gums are essential to the long-term success of dental implants.
Do you smoke or use other tobacco products?
Smoking cigarettes or using other tobacco products doesn't necessarily disqualify you from having dental implants placed, but these products are detrimental to the procedure as a whole. Use of tobacco or nicotine products increase the risk of surgical complications including postoperative infections and compromised healing.  Tobacco or nicotine use also increases the risk of developing gum disease, causing the bone to break down around your dental implants, and may lead to implant failure, requiring removal.  Be honest with Dr. Beck about your tobacco use so that together you can come up with a plan to ensure the success of your surgery.
Choose San Diego's Dr. Beck For Your Dental Implants Procedure
With years of experience placing dental implants for San Diego residents, Dr. Beck is not only a specialist at the procedure, but she is also one of the most highly sought-after periodontists in Southern California. Call her office today at (858) 635-6700 to schedule your first appointment!