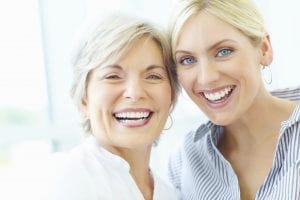 When we get calls from patients that are missing teeth they often assume that they're one of the only people suffering from it. But you'd probably be surprised to learn that 178 million Americans are also missing at least one tooth. This is actually one of the most common dental issues, and it often impacts our patient's sense of confidence and self-esteem. As if improving one's self confidence isn't reason enough to replace your missing teeth, there are also several health-related reasons to replace those missing chompers. In this blog post, we'll look at a few of those reasons, and discuss replacement options, particularly dental implants; the gold standard for replacing missing teeth. San Diego patients that are ready to get a beautiful, comfortable, and confident smile should call Dr. Beck today at (858) 635-6700. You can also check out our gallery of Before-and-After dental implants pictures to see what you can look forward to.
Benefits of Replacing Your Missing Teeth
Other than simply filling in the missing space between your teeth, there are several other benefits to getting your teeth replaced–especially if you get them replaced with dental implants. Many San Diego patients have already understood the many benefits of dental implants including some of the following:
Speaking and eating – When you are missing teeth it can hinder your ability to pronounce certain words or phrases. You may also notice difficulty biting or chewing some of your favorite foods.

 

If your missing tooth is in the back, you may have trouble eating some of the most nutritious food including vegetables and proteins. Until you are missing a tooth, you might not appreciate how critical they are to chewing some of your favorite foods.
Malocclusion – When you have a gap between your teeth, the two teeth on either side will begin to tip towards each other to fill the gap.

 

This tipping of your teeth can be like a sink-hole in your bite and cause you to shift all your chewing to the opposite side.

 

This is called malocclusion and can cause alterations and pain in your jaw joints (TMJ). As if that isn't enough reason to replace your missing tooth, the opposing tooth can also begin to grow into the empty space and cause additional problems with your bite, especially if you plan to fill the space later on. 

Bone loss – This is a big one. The roots of your teeth are embedded in your jaw bone, and without the tooth root to stimulate the jawbone, it will start to weaken and resorb. But with dental implants, San Diego patients can prevent this bone loss. Dental implants serve as a replacement root which anchors the replacement tooth to the jawbone and prevent additional bone loss.
How to Get Started with Dr. Beck
Dr. Beck is one of the leading and most well-respected periodontists in Southern California. Not only has her research into new treatment methods been published in some of the most prestigious medical journals on earth, but she is also a Diplomat of the American Board of Periodontology: the highest academic achievement in her field. Even more importantly, our patients absolutely love how gentle, caring, and compassionate she is–especially when it comes to dental implants.
San Diego patients hoping to get some of the finest dental care for their missing teeth should contact us today at (858) 635-6700. We would love to talk to you about your questions, your concerns, and learn more about how we can help you get the smile of your dreams.