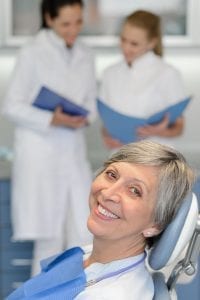 Finding the right medical professional — whether it be a general practitioner, dentist, or specialist — can feel a bit overwhelming. After all, you are entrusting them to take care of your body and your health — and that is extremely important.
If you've lived in Poway for most of your life, chances are you have also had the same dentist for years as well. Once you find a dentist that you feel comfortable with and that you trust with your oral health, you stay with them. However, when you develop a dental problem that requires more help than your general dentist can provide, they may refer you to a periodontist. A periodontist is a specialist who focuses on the prevention, diagnosis, and treatment of periodontal disease, oral inflammation and the placement of dental implants.
But how do you choose the right periodontist for you?
What to Look for When Selecting a Periodontist
If your dentist expressed a desire to have you see a specialist for your dental concerns, there are a few things you can do to make sure you are selecting the right periodontist for you.
Ask people you trust. You may have never had to see a periodontist before, but there is a good chance someone you know has. Ask around your circle of family and friends to see if any of them have had positive experiences with periodontists in the Poway area. People you care about are not going to steer you wrong and most are happy to refer you, if they had a positive experience. Don't forget to ask your dentist for their professional opinion as well — they can usually help point you to ethical and honest periodontists.
Look at education and professional credentials. When choosing a periodontist in Poway, you want someone who you can trust knows exactly what they are doing. Periodontists should have a four-year undergraduate college degree, a dental degree (Doctor of Dental Surgery (DDS) or Doctor of Medical Dentistry (DMD)) from an accredited dental school and three years of training in an American Dental Association-accredited periodontal residency program. Top periodontists will also be board certified by the American Board of Periodontology.
Initial research into a periodontist's background is incredibly important, but sometimes you just need to schedule an initial consultation to get a feel for the periodontist's personality. Scheduling an initial consultation with a few qualified periodontists will help you feel more comfortable in making a final decision as to who you want to entrust to perform your dental procedure.
If you are looking for a periodontist in Poway, consider meeting with Dr. Tina Beck of Southern California Periodontics & Implantology. Dr. Beck is a board certified periodontist with extensive experience and training.
Dr. Beck and her team's welcoming and non-judgmental nature help put patients at ease whenever they come into our office. Contact Dr. Beck today to schedule your consultation by calling (858) 635-6700.