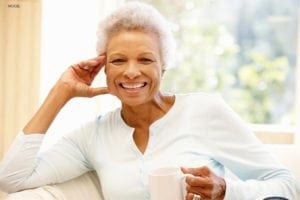 Are you a San Diego resident with missing teeth, who is having difficulty biting down on your favorite foods? Have you tried other tooth replacement options in the past, such as dentures or bridges, only to find out that they can slip and slide, or break while you eat? If so, then you may be interested in the latest tooth replacement system on the market – dental implants. These "built-to-be-permanent" solutions are surgically inserted into your jawbone and allow you to chew, bite down and eat without worry!
About Dental Implants
If you're just learning about dental implants, we're glad you found us! As a San Diego periodontal office, one of the things our doctor, Dr. Tina Beck, specializes in is the placement of dental implants. And boy, is she knowledgeable about them! Here are some things you should know about this tooth replacement option.
Dental Implants are:
Permanently inserted into a patient's jawbone via a titanium rod, which is covered with a natural feeling and looking crown
A tooth replacement option that can last a lifetime, when properly cared for
Designed to look and function like natural teeth,
Stimulates your jawbone the same way your natural tooth would, preventing bone atrophy and degeneration in the area of the missing tooth
Made to allow you to eat your favorite foods without the risk of breakage or slipping and sliding like removable alternatives, like dentures and partials
You Can Eat Anything When You Have Dental Implants!
If you're a San Diego resident with dentures, then you know the limitations that come with them. They are removable and come out of your mouth every night to clean and allow the gum tissue to breath. And because they're only secured with a dental paste, they can slip and slide when you chew your favorite foods. Because of this, you are unable to chew your favorite crunchy foods. No peanut brittle for you! Even steak can be hard to eat with dentures because they tend to slip around so much.
Likewise, if you have a dental bridge or multiple bridges, you know they are sensitive to breaking and difficult to clean under. As a result, the supporting teeth often fail due to breakage, gum disease, or decay.
However, dental implants are different. Because they can last a lifetime when cared for properly, and because they're designed as a permanent tooth replacement system, San Diego residents with dental implants can chew on anything they want, without fear of embarrassment of them slipping out! What a relief! Finally, you have the smile you want, with the tooth functionality you need.
Learning More About Dental Implants
Getting dental implants can be a significant investment of your time and money, so you shouldn't decide to get this tooth replacement systems lightly or uninformed. That's why periodontist Dr. Beck spends so much time with her potential dental implants patients educating them about the solution. She wants to make sure that everyone who moves forward with this tooth replacement system is knowledge about the ins and outs of dental implants, and what properly caring for them entails. As a specialist in the surgical placement of dental implants, she is a highly trained surgeon who takes every precaution to ensure your implants remain healthy and last a lifetime. She will even help your ongoing maintenance of your new implant(s).
Contact Dr. Beck to Schedule an Initial Consultation Today
The best way to learn more about dental implants is to schedule a consultation to speak with Dr. Beck herself. To schedule an initial appointment with her in her San Diego periodontal office, call (858) 635-6700.